A brief introduction...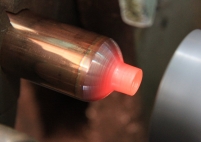 The filters are tropicalized TOPFLO thanks to its technology "extra dry". Provide the highest adsorption capacity of moisture, particularly efficient in the new ecological gases tend to be hygroscopic. Also eliminates the formation of organic and inorganic acids, resulting from the decomposition of the refrigerant oils in contact with moisture. This will prevent corrosion of the components. Therefore they are widely recommended to ensure optimum maintenance of all systems cooling areas: domestic, commercial, industrial and automotive.
TOPFLO has excellent acceptance throughout the Americas, by providing the most reliable protection and to prolong the life of refrigeration equipment, even under the most extreme conditions.